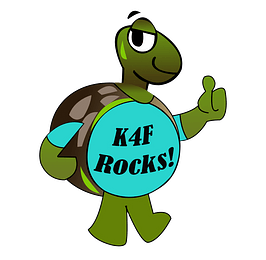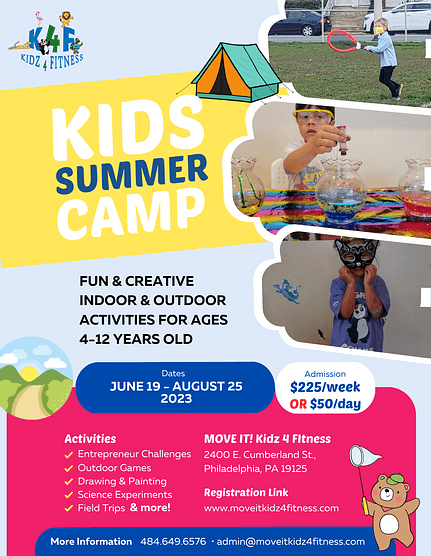 K4F offers a fun, accessible, and affordable camp for children that will make their summer exciting. Our camp is divided into ten one-week sessions and each week will focus on a different theme as well as have activities related to the theme of each week. Not only will there be weekly themes and activities, but kids will also be able to enjoy field trips. Kids between the ages of 4 and 12 years and with all interests can come enjoy a full day of activities, fun and a place where kids can be kids. Join us for an enriching summer of art, fitness, dance, and much more. We offer flexible scheduling options to meet the needs of busy families like yours. If attending camp all or each week is not an option, drop ins are available.
DATES: JUNE 19 - AUGUST 25, 2023
TIME: 9:00a - 6:00p
PRICE: $225 per week OR $50 per day
How to Register:
View our Online Registration tab. Sign into Parent Portal and click the "Find Classes" tab on Jackrabbit when registering!
FIELD TRIPS ARE SEPARATE FEES.
Weekly Themes:
Week 1 (6/19- 6/23): Superheros
Calling all superheroes! Despite our victory last summer over the Phantom Counselor, it seems the villain behind it all - the Phantom Camper - is still at large and more determined to take over camp than ever before. The Director is calling upon the aid of superheroes, sidekicks, and heroes-in-training alike to band together and stop the elusive Phantom Camper once and for all.
Week 2 (6/26 - 6/30): Pirates
Yo ho ho and a bottle of... water! Though most pirates are scoundrels and scallywags, the crews that sail the Spicey Seas are more into the pirate aesthetic than any actual pillaging or plundering. Nevertheless, we gather to share tales of the high seas and perhaps even a sea shanty or two during this most piratical of weeks.
TRIP: SEAPORT MUSEUM
Week 3 (7/3 - 7/7): Wild West (Closed July 4)
It's time to saddle up the horses, put on your boots and cowboy hat and explore this fun theme week. We're rounding up our little cowpokes and have a rootin' tootin' good time practicing our line dances, and learning about the Wild West.
Week 4 (7/10 - 7/14): Animal Planet
Lions and tigers and bears.. Oh my! Join us for our first Animal Planet Week. Enjoy a safari scavenger hunt, make creative animal crafts and choose your favorite animal themed group costumes!
TRIP: PHILADELPHIA ZOO
Week 5 (7/17 - 7/21): Legos
An exciting and fulfilling week experiential journey as the Young Mayors spend their camp week planning, building, and governing their dream LEGO city with 1-2 fellow Co-Mayors. Given the small group size and a high counselor/camper ratio, we deliver a highly customized experience to each group of children such that each camp session and each city built is unique!
Trip: LEGO LAND
Week 6 (7/24 - 7/28): Fizz, Bang, Boom, Bot!
What do you get when you combine physics, chemistry, and electricity? You get Fizz, Bang, Boom, Bot! Your child will do experiments with light and flight and make their own kaleidoscopes, build their own robot, concoct glowing slime and participate in a competition to see who can build the tallest tower!
Week 7 (7/31 - 8/4): To Infinity & Beyond
Planets and stars and red dwarves, oh my! What child isn't intrigued by the wonders of the universe? Camp activities include learning about the solar system, Alien Art Creation & Storytelling Activity and build a rocket.
Week 8 (8/7 - 8/11): Time Traveler
This week begins with a counselor dressed up as caveman and introduce a dinosaur hunt. The campers go out into camp and try to find as many dinosaurs as possible. Each day can be a different theme within the weekly theme of Time Travelers.
Week 9 (8/14 - 8/18): Geology ROCKS!
Kids moving and discovering and fostering excitement and wonder for science, art, and the outdoors while engaging in our hands-on educational curriculum. Kids will have the opportunity to play, explore, and expand their knowledge with "fossil sites", hands-on science projects, and expert presenters in the geology, earth science, survival skills, and local plants and animals.
TRIP: ROCK CLIMBING
Week 10 (8/21 - 8/25): Fessy Messy Games [K4F Color Day/Picnic - 8/25]
A camp classic returns! Put your game face on and go for the gold. Cheer on your fellow athletes as you compete. Test your agility and strength. Our Annual Fessy Games will include obstacle courses, swim races, spirit awards and much more! Water games TOO!